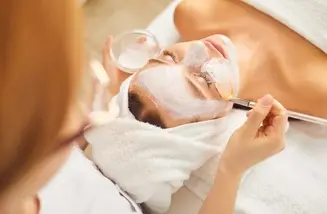 ALUMIERMD LUXURY FACIAL
The AlumierMD Luxury Facial is a unique experience that combines relaxation with high performing active ingredients to address your skin concerns. Get ready to relax and let go as you receive the ultimate in customization and relaxation. This treatment includes a facial massage, lymphatic drainage and pressure point massage that will help release toxins in the skin and soothe pain while relaxing the body and mind. Your highly trained AlumierMD skin care professional will customize your treatment, which will leave your skin looking incredibly radiant, refreshed and balanced.
1 hour Facial: $95.00
30 min Facial: $55.00

ALUMIERMD PEELS
AlumierMD provides a variety of superficial depth peels that treat skin conditions and concerns including rosacea, acne, hyperpigmentation, photodamage, wrinkles & fine lines.
With a variety of peels, each with a unique complex of ingredients, your AlumierMD professional can customize your program of treatments to target your specific skin concerns.
This unique experience includes an exfoliating peel treatment, brightening enhancement followed by prescriptive targets serums to reveal more radiant, soft and luminous skin.
A consultation is recommended prior to receiving any of the Clinical Peels.
RADIANT 30 PEEL

TARGETS: Hyperpigmentation, Uneven Skin tone, dull skin, line & wrinkles
Radiant 30 is an alpha hydroxy acid resurfacing peel containing lactic acid to exfoliate dead skin cells, boost cell turnover and stimulate collagen, improving skin texture and tone. This multifunctional peel targets multiple skin conditions, including fine lines and wrinkles, discoloration, sun damage and large pores.
GLOW PEEL
TARGETS: Dry, Normal, Oily, Dehydrated, Acne, Hyperpigmentation & Ageing
Glow Peel combines lactic acid, salicylic acid and resorcinol, creating a multipurpose resurfacing solution effective in minimizing the appearance of fine lines, wrinkles and hyperpigmentation issues like age spots, discolouration and uneven skin tone.
This formula exfoliates dead skin cells and stimulates cell renewal. To suit individual needs, Glow Peel can be customized by strength.
Peels: $175
Click here to watch a video of one in action!